Painted wood, bamboo, RAF sunglasses, copper, resin and tennis rackets.
H.226, W.123, D.115 cm (1990).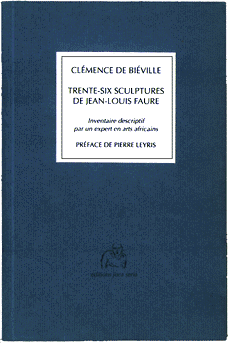 Clémence de Biéville
Trente-six sculptures de Jean-Louis Faure
Editions joca seria.
The artist, then aged seven years, can remember seeing King Gustav V of Sweden playing tennis in 1938 at the Racing Club in Paris. The king was then aged 80 and was returning the gentle shots of either Joan Borotra or Henry Cochet.
His grandmother and godmother, Désirée Clary, wife of Bernadotte, later King Charles XIV of Sweden, had been Napoleon BonaparteŐs first love.
We see here the Queen of Sweden in black sheath dress, her breasts exposed, juggling tennis rackets.
Her rotating head reveals, according to choice, the face of Désirée Clary or that of Napoleon (see sculpture 67) trumpeting his orders. King Gustav V, as seen by the author, is scaling his grandmother who is standing on a tennis court.

---
---