Oak, bamboo, glass, rabanne and oilcloth.
H.107, W.182, D.92 cm (1984).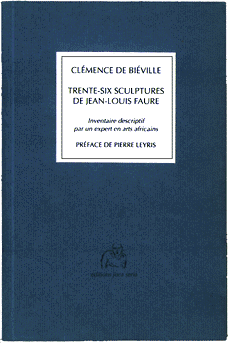 Clémence de Biéville
Trente-six sculptures de Jean-Louis Faure
Editions joca seria.
Un fauteuil vert contemple une jeune fille disparue. Fixée sur le parquet, une longue plaque d'émail rouge porte, painted white, this sentence: THE RELATIONSHIP BETWEEN ALCOHOL AND MORTALITY AMONG JAPANESE PHYSICIANS. C'est le titre d'un article de Kono Suminori Kyushau ; in Int. J. Epidemiol., 12, 437-441 (1983).

---
---